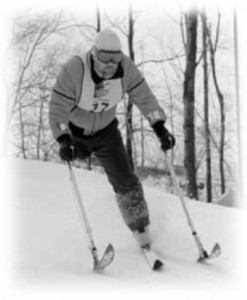 The Waterloo Region Track 3 Program was developed in order to teach young children with disabilities to ski. In 1989, the Chicopee Ski Club in Kitchener was approached to establish a pilot project.
Our program started with six students and eight volunteer instructors, and enjoyed tremendous success from the beginning. Each year since inception, the program has almost doubled in size and the waiting list of students wishing to enter the program continues to grow.
Because of the need within our community, the Waterloo Region Track 3 Program has evolved into an organization with a mission to provide programs for the disabled. In 1993, the Waterloo Region Track 3 Ski School was incorporated and registered as a charitable organization. The ski school is an affiliated minor sport organization with the Cities of Kitchener and Waterloo.
The Track 3 philosophy has spread to many other parts of the province. Similar programs are operating at Georgian Peaks Ski Club, Alpine Ski Club and Craigleith Ski Club in the Collingwood area, the London Ski Club and Horseshoe Valley Ski Club in Barrie. Locally, the Waterloo Region Track 3 Ski School provides programs for approximately 85 students with the help of over 200 trained and certified volunteer instructors.
In addition, we have a fully equipped ski shop (for repair and maintenance of adaptive equipment) and support volunteers to meet the needs of the students on the hill.
Mission Statement
Waterloo Region Track 3 Ski School provides children and young with disabilities the opportunity to safely experience the pleasure of downhill skiing as a leisure activity.
Vision Statement
Waterloo Region Track 3 Ski School will be a successful, financially self-sustained, charitable, responsive community of well-trained volunteer instructors, and well-informed parents and students.
Values
Accessibility and Inclusion
Opportunity
Friendship/Partnership
Self-Esteem
Safety
Participation
Fun
Innovation